About The Spencer Hotel & Spa
The first literary-themed hotel in the United States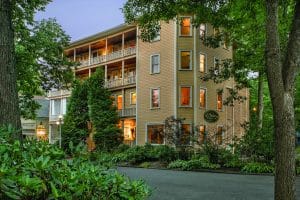 The Spencer Hotel & Spa is a place where you can escape into a literary world. We are the first literary-themed hotel in the United States that has dedicated our guest rooms to famous authors. Our four-season hotel in Chautauqua, New York is only steps away from the famous Chautauqua Institution and beautiful Chautauqua Lake. The Spencer Hotel & Spa celebrates over a century of hospitality. We are the only building at Chautauqua Institution that has earned the distinction of Historic Landmark from the Federal National Parks. The hotel has also been in the exclusive Select Registry collection of bed and breakfasts since 2015.
Our guest rooms were decorated by local artists to honor the lives and works of famous authors. Each also offers a select library of their books, and musical selections are available that further convey the tone of their lives and times. Hand-painted murals grace many of our walls, floors and ceilings. Guests will also find faux finishes and yards of English lace in addition to custom-made drapes, dust ruffles and lampshades. An elevator is available on all four floors of the hotel. Four floors of porches grace the front of the hotel, and are appointed with Victorian sofas, chairs and rockers which overlook the famous Amphitheatre.
You'll find that our luxury hotel features all the charm and atmosphere of a bed and breakfast. The Spencer offers cozy areas that are perfect for playing a board game, curling up with a good book, engaging in conversation, or relaxing at our spa. Our Monet Parlor features a 45″ x 90″ movie screen which is available for use.
The Spencer Hotel & Spa is the perfect place to experience Old World richness. It is a place where warm memories are made with friends or family. We invite you to stay with us. Pick your perfect literary themed getaway right here in Chautauqua, New York.